Study Finds Cat Owners More Likely To Commit Suicide
August 21, 2012Comments are closed.

A new study reveals that cat owners are more likely to commit suicide and suffer from other mental problems caused by exposure to Toxoplasmosis gandi.
If you're like me, you have never heard of Toxoplasmosis gandi and thats something to be concerned about. Toxoplasmosis gondi is a parasite that uses cats as a host and is easily transmitted to humans (about 1 in 5 people in the United States have it, primarily via cat feces).
Are you concerned yet?
According to a new article in the Atlantic, there was a massive study in Denmark last month that found a link between exposure to Toxoplasmosis and self-directed violence. Scientists gathered fifty-four patients who had previously attempted suicide, plus 30 control subjects, and ran tests to determine if they had been exposed to Toxoplasmosis.
The results are alarming.
"Testing positive for exposure to Toxoplasmosis (as well as the degree of one's immune response to it) correlated strongly with suicide attempts.

"Both men and women who tested positive for immune responses to toxo were seven times more likely to have a history of "nonfatal suicidal self-directed violence."
To make matters worse, those infected with Toxoplasmoisis can also become  more "expedient, suspicious, jealous, and dogmatic. Those infected are three times more likely to die in care accidents, and more likely to develop schizophrenia."
If you're a cat owner, you may be reconsidering pet ownership right about now, but fear not – you can prevent Toxoplasmosis. According to the CDC (Center for Disease Control), you just have to do the following for your furry feline:
Keep your cat indoors to prevent it from hunting.
Feed your cat only cat food or cook all meat thoroughly before giving it to your cat.
Do not give your cat raw or undercooked meat.
If you adopt or buy a cat, get one that is healthy and at least 1 year old. Avoid stray cats and kittens. They are more likely than other cats to be infected with toxo.
Wash your hands well after touching raw meat and after gardening, yard work, and other outdoor activities.
Sounds easy enough, right?
Ah, who am I kidding. There is no way I am getting a cat now. Dogs are the way to go!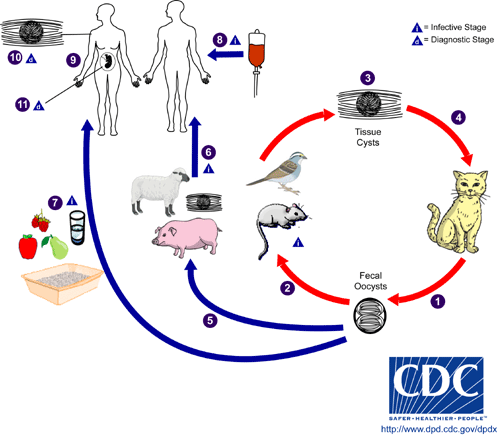 m4s0n501
Breaking News
RSS Error: A feed could not be found at http://feeds.huffingtonpost.com/huffingtonpost/LatestNews?#. A feed with an invalid mime type may fall victim to this error, or SimplePie was unable to auto-discover it.. Use force_feed() if you are certain this URL is a real feed.